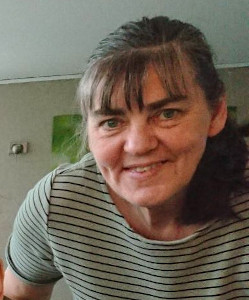 Mission statement
"It is my passion to manifest a world in which all lives are atuned to each other so that everyone, no one excepted, can live the life that matches who they really are. The life they are born for. Their best life possible.
I support conscious, spiritual people in attuning their lives to others in such a way that not only they themselves can live their best life possible, but anyone with whom their lives are connected. "
Awakening my inner healer
In the course of my life I closed myself off from the qualities I possessed to align all lives. With that I also closed myself off from my inner healer.
In 2002 I came into contact with books that aroused my curiosity and desire to start using my healing qualities again. Later that year, I was pushed from within to start an energetic therapy practice alongside my paid job. I had mastered Barbara Brennan's healing method. This turned out to be a good start for further 'training on the job' that I received from my inner guides. They showed me where to place my hands and trained me on all aspects necessary to work with my inner healer.
I thus developed myself into a very skilled natural Multidimensional healer.
My challenge: co-creating the natural unity in everyday life
The natural unity and cohesion of life was always a matter of course for me.
Manifesting this unity together with the people in my environment, however, was not!

Pretty much all of my life I've been on the sidelines of life.
I didn't manage to 'jump in'.
People walked right across my life path. And they were of the opinion that I got in their way with that.
They didn't seem to see the point of following your life path by co-creating your life plan.
Co-creation proved to be impossible for me.
I didn't realize that most people live a shallow live. Literally on the surface of the Earth.
Their inner world also remains on the surface.
Their conscious life takes place in the defined area we call spacetime.
The area where some of the particles of matter that are available to us to shape our lives with, have taken on a solid form.
I don't stay on the surface but also go into the depth
To the reality that lies beneath the surface.
The area where all the particles that could solidify swarm together.
At some point in time in some place in the area we call spacetime.
The quantum area or particle level.
By considering spacetime and the quantum field in conjunction, I am able to see how all life on the surface of the Earth is interrelated.
I can also observe the natural cohesion and the unity of life.
As well as the possibilities to shape the individual lives and the collective life in coherence to each other.
With the competences 'diving into the depths' and then 'relating the surface and the depth with each other' a new world can arise. A world where everyone, no one excepted, can live the life that suits them exactly.
However, I had to learn the value of those competencies.
For over 40 years I pretended that life was only playing out on the surface. And I had done nothing to attune life around me to the intrinsic coherence that life naturally has. My life continued to deviate further and further from the life that suited me best. It couldn't continue like this.
From the end of 2004 to the end of 2019 I worked intensively to bring the world around me back in line with who i really am. First at work, then in my private life. And in the meantime, I've also helped a number of other people align their lives with who they really are. As a result, I got to know my competencies well and was able to develop them further to the expert level on which I can now use them.
I now know the importance of my competencies and use them daily to improve my life and the lives of others, to align the people with whom my life is connected.
My designs
As part of my work on a collective level, I have designed a 'Life Path Navigation System'. This energetic system, which works through the chakras, supports life by enabling everyone to develop his or her unique possibilities optimally aligned with the whole.
With this system it is possible to consciously walk your life path by making choices that are in line with who you really are. Animated, inspired and conscious living is an active and dynamic way of life.
In addition, it is also possible to survive (live in fear, driven by your defense system) and live unconsciously (via cause and effect, just let yourself go with the flow).
'Easy living', taking advantage of the money and effort of others or living at the expense of others and life as a whole, however, is no longer possible if it is not part of the life plans.
Living animated, inspired and conscious is a choice.
The system consists of three parts, three separate designs, which are closely related:
Chakra Communication- and Information System
(Life Path Navigation System)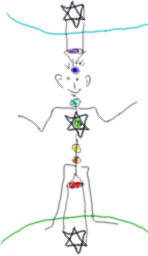 Through this energetic system, which works through the chakras, everyone is connected with the whole and with each other.
All (physical and mental) possibilities, wishes, desires, ideas, personal preferences, beliefs, intentions, behavior, habits and customs of everyone are included in it.
It handles the tuning, coordination and synchronization between everyone.
The Personal Soul Plan or Life Plan is composed and executed as part of the Collective Life Plan.
Life takes shape by attuning our possibilities and choices.
Life plan / Soul plan
(Virtual, dynamic map with all options)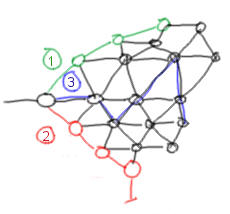 The Life Plan, or Soul Plan, is a virtual representation or projection of all realistic possibilities you can choose from, planned out into the future.
Through this plan you can (broadly speaking) map out your desired path through life. It is a dynamic plan that changes with every choice, yours or others.
The Life Plan is the result of the alignment between everyone who is connected to your life, according to the organization of the collaboration cube.
Collaboration cube
(Organizational model and model of the integrated human being)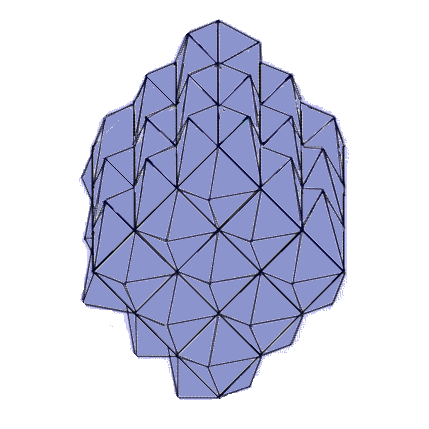 The collaboration cube is an organizational model.
It organizes the cooperation between all independently functioning parts within the multidimensional unity that life is.
The individual person is the one who, through this cooperation, brings out a unique expression of life and adds it to the collective life.
If all parts work together perfectly and consciously, then we can speak of an with the whole integrated human being. The symbol of the cube on its tip represents this integrated human.
The principles of this cooperation model are incorporated in the chakra communication and information system.